About us
Light, fresh, and flavourful—these are the best things that describe an authentic Thai cuisine. The good news is you can already experience these scrumptious meals such as red curry and BBQ chicken @Thai Harbour. We are currently located at 4/7 Addison Street in Shellharbour New South Wales. We are open from Monday to Sunday between 5:00 p.m. and 9:00 p.m. Or you can enjoy our food at the comforts of your own home by ordering them online. We have partnered with Menulog to make the process very quick. In less than 3 minutes, you're basically done! We accept either major credit cards or cash.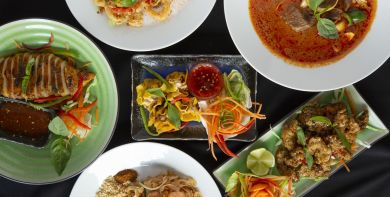 Reviews
Angela
"Best Thai around"
3/12/2019
gharrison
"Perfect "medium" heat taste for both meals. Sauce could be thicker with a tad of cornstarch - but realise that this is not authentic Thai. Perfect meals & pick-up - thank you"
23/11/2019
Kelly
"Nice meal quick delivery"
22/11/2019
Jim
"We always enjoy the food from Harbour View"
16/11/2019